KINDNESS Students
Ryan Scott
Tuesday, October 24, 2017
The early developmental stages are crucial academically but also social/emotionally. Main Street School & Kindergarten knows that "partnering" up w/ parents & community to develop the most prepared and motivated students is the ultimate goal.
During September, we focused on "Kindness." We had a guest speaker, Shelbyville School Leader, Superintendent Denise Bence, speak to the students to define, practice, and encourage students as a "kick-off" w/ excitement.
Teachers reinforced in the classroom w/ literary stories and discussions highlighting characters & theme related to Kindness & the students' personal lives. Teachers and staff regularly praised this trait when it was observed in front of peers.
The goal is for these traits to be the "norm" & part of the established "culture." It is expected & appreciated. We want peers to recognize it in each other & reinforce as well w/ appreciation.
The focus w/ KINDNESS obviously has an anti-bullying message that is reinforced all year.
Kindness is related to the concept & maturity associated w/ being self-aware. We need students to reflect on actions & attitudes to become more self-aware and consider how others perceive them. We tell students that a mini-discussion w/ themselves inside their own mind is not weird; it is part of becoming a young man or woman. The idea is that if our youth could have a 5-15 second pause and consider actions and "ripple effect" w/ a cost-benefit analysis, they are more likely to make a calculated response versus an initial reaction that is often regretted. This is the self-regulation of emotions component. Students need these steps as they also develop peer relationships and conflict resolution skills. We model and explicitly teach as well as strategically reinforce. Many of these traits such as empathy are not inherited; they are learned.
Our "mantra" @ Main Street School & Kindergarten Center is "BE NICE; WORK HARD." If students adopt this personally, the other aspects will fall into place w/ the opportunities & supports from the school & home.
We are very proud to announce the September 2017 Main Street KINDNESS Students: These students were consistently observed treating peers w/ Kindness even if they are not in their normal "circle of friends." These acts of genuine Kindness make the whole school better.
pictured (left to right): Mr. Scott-Principal, 1st grade – Wesley Dragovan, Harper Eversole, Carter Bruns, Noah Miller 2nd grade – Kylin Wehrle, Abigail Reed, Sophia Summers, Kaelynn Voyles 3rd grade – Sophia Price, Amelia Hammond, Tori Stephens, Crew Lockart, Charlie Russell
Kindergarten September 2017 KINDNESS Students: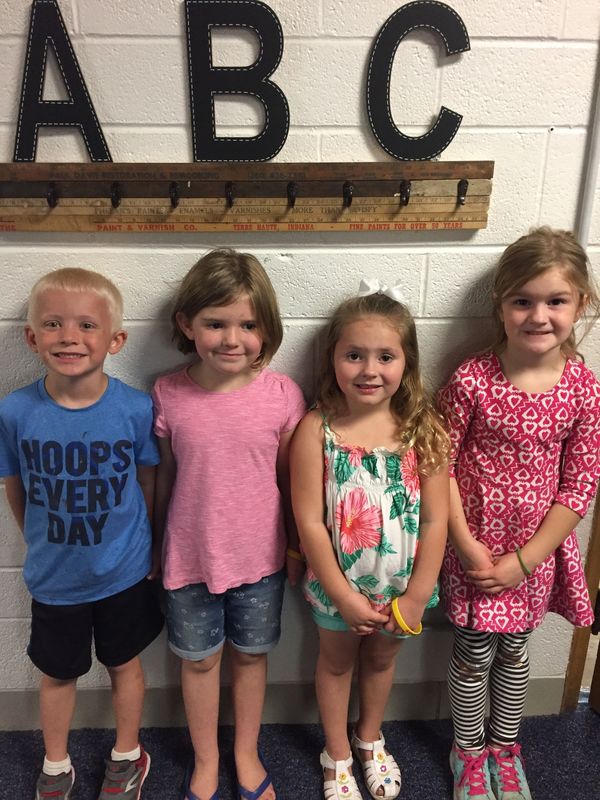 pictured (left to right) Owen Bonny (Mrs. Helton), Alexis Cox (Mrs. Hammond), Cali Randolph (Mrs. Kuhl), Kara Chambers (Mrs. Storm)
Students were identified w/ combination of peer input & teacher recommendation.