Main Street August 2017 SELF-CONTROL Students
Ryan Scott
Wednesday, September 13, 2017
The early developmental stages are crucial academically but also social/emotionally. Main Street School & Kindergarten knows that "partnering" up w/ parents & community to develop the most prepared and motivated students is the ultimate goal.
During August, we focused on "Self-Control." We had a guest speaker, local community member & business owner, Marisa Pearcy, speak to the students to define, practice, and encourage students as a "kick-off" w/ excitement.
Teachers reinforced in the classroom w/ literary stories and discussions highlighting characters & theme related to Self-Control & the students personal lives. Teachers and staff regularly praised this trait when it was observed in front of peers.
The goal is for these traits to be the "norm" & part of the established "culture." It is expected & appreciated. We want peers to recognize it in each other & reinforce as well w/ appreciation.
We are strategic w/ the praise as well. We praise the character & effort/process w/ more value than the end result. i.e. We do not praise a student by saying, "You are smart" or I am proud of you for getting an A." We say, "I was impressed w/ your work ethic & grit even when the math problem got difficult; you didn't give up" or "I noticed you allowing a peer to join your game & made them feel accepted."
Our "mantra" @ Main Street School & Kindergarten Center is "BE NICE; WORK HARD." If students adopt this personally, the other aspects will fall into place w/ the opportunities & supports from the school & home.
We are very proud to announce the August 2017 Main Street Self-Control Students: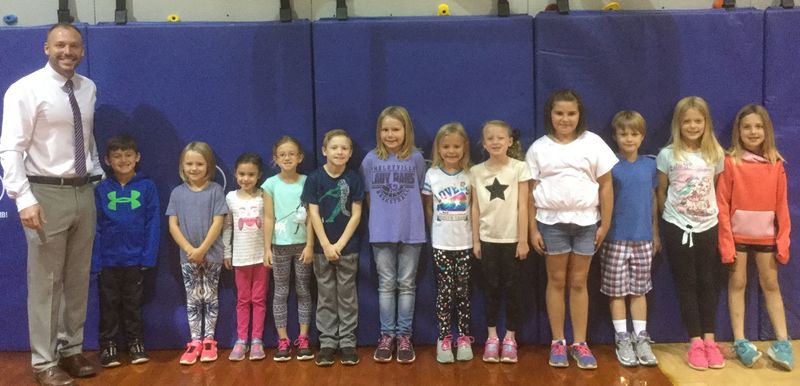 pictured (left to right): Mr. Scott-Principal, 1st grade - Destin Rhodes, Leah Shoaff, Natalie Nohren, Bella Miller, 2nd grade - Brewer Wakeland, Madilyn Ward, Brooklyn Pittman, Tori Schrock, 3rd grade - Hailey Ogden, Oliver Vitale, Avery Bland, Miranda Bruns
Students were identified w/ combination of peer input & teacher recommendation.