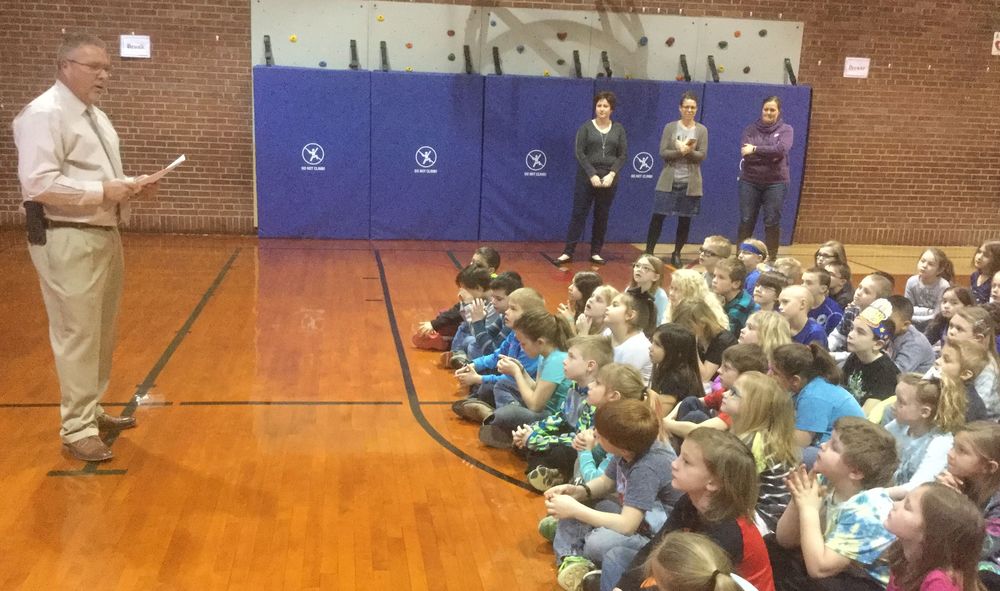 EMPATHY-February w/ Alan Fedrigon
Ryan Scott
Monday, February 05, 2018
EMPATHY: "Seek to Understand"
By Ryan Scott, Main Street Elementary School & Kindergarten Center Principal
Main Street & Kindergarten Center is equally dedicated to the development of our students Socially & Emotionally to Academically. The goal is that no student is more prepared for College or Career or LIFE than our students. Much of this development is not inherited; it is learned. We must model & strategically reinforce w/ positive, timely (on demand) & specific feedback. There are personal & collective benefits to this development & the ideal system involves students that see Value & Progress.
The Main Street & Kindergarten Center TEAM decided to dedicate the month of February to the concept of EMPATHY. This is an abstract noun that is really more of a verb. The students have much less exposure to this term as other traits such as Kindness. We knew this would make it more difficult to communicate what it is and what it looks like. We need a speaker w/ a genuine & clear message that would impact the students w/ an emotional charge to "get it." I feel very comfortable saying that I think we found the perfect person for this role.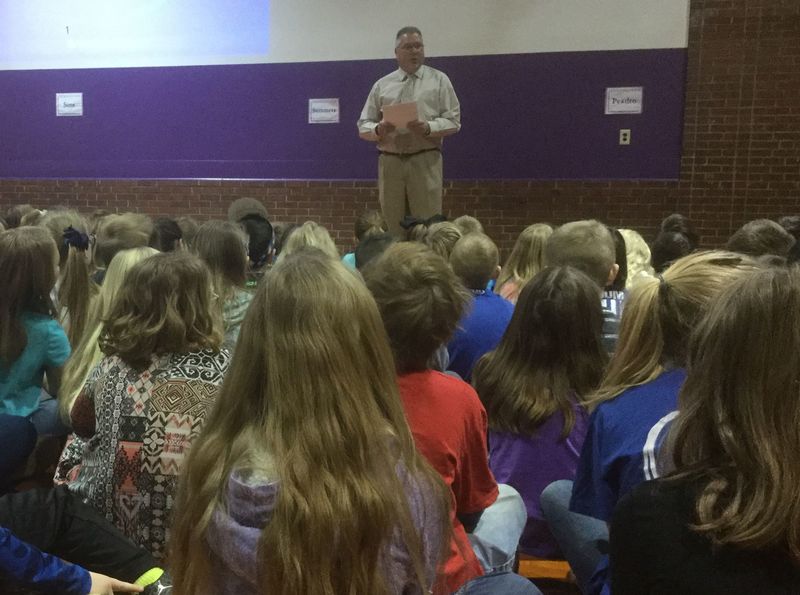 On Friday, February 2nd, Alan Fedrigon, local community member, delivered am emotional message to Main Street & Kindergarten students regarding EMPATHY. Mr. Fedrigon began by introducing himself & acknowledging his personal connection to Main Street School. He was married to legendary 2nd grade teacher, Mrs. Becky Fedrigon, who taught for thirty-one years at Main Street School. Becky was respected by colleagues and loved by her students. She dedicated much of her life to this school & her passion for teaching. Her influence is greater than we will ever know & her name elicits a response of admiration from the students & TEAM of teachers.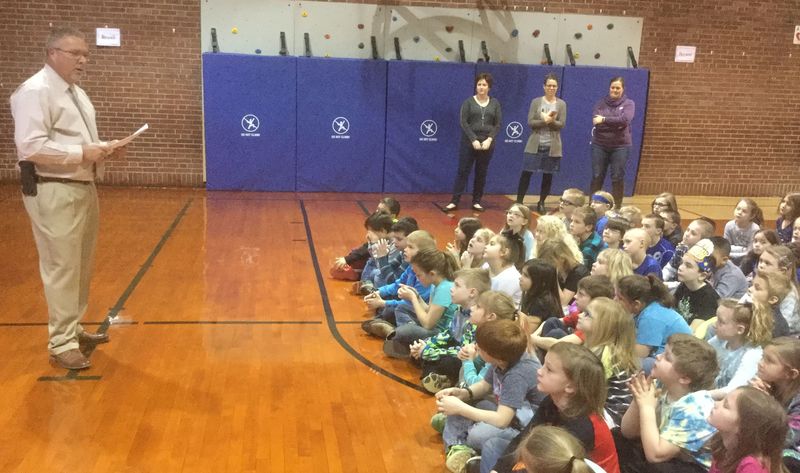 Mr. Fedrigon admitted that when he was the students' age, he is pretty sure that he did not know what EMPATHY meant or what is was like to be Empathetic & that many adults do not know the difference between Empathy & Sympathy.
He quoted the Merriam-Webster dictionary definition & then simplified to be more student-friendly language.
He shared a 'Aesop Fable" type story personifying animals to illustrate the difference between Empathy & Sympathy. He described a cartoon w/ a Fox stuck in a deep hole. The Fox was stuck in the dark & overwhelmed. A Bear climbed to the bottom & said, "Hey, I can feel what it is like & you are not alone." A Deer simply said, "Ooh… that is bad; you need anything?" The point is to "seek to understand" versus just recognize that it is unfortunate & wish that it had not happened. Sympathy is not a bad thing but Empathy is more effective.
Mr. Fedrigon shared some personal anecdotes such as a time when his friend showed up at his house. He simply said, "I don't have any words that I can say to make this go away or make you feel better. I just wanted to be here with you." & he hugged him. Empathy often involves listening to understand versus a response. This is why most Hallmark cards are Sympathy Cards.
Mr. Fedrigon ended with a relatable time that he had experienced Empathy to highlight that it is likely that the students have felt this but just didn't know what it was. He says, "Empathy is a choice." He also encouraged students to recognize opportunities to show Empathy & be empowered & prepared to respond.
I would like to share the closing words of Mr. Fedrigon to the current 3rd grade students.
"I'm going to end with something that I did not do in the 1st sessions & you will understand why. Raise your hand if you had Mrs. Fedrigon last year in 2nd grade. (Many students raised their hand & all knew her. The room was silent & there were tears.) In November, your character trait focus was GRATITUDE. I owe each of you a debt of gratitude. You see, when the year started and she was diagnosed with cancer, she spent three days in the hospital and missed more days of school than her first thirty years combined. She was sure that she would not teach another day in her classroom. When I asked the three doctors that were in the room what they thought, they all said that she would be back in the classroom. Then, she said that she wouldn't finish out the year and retire in her classroom. Thanks to you, she was able to finish the job she was placed on this earth to do. It was you, the students, that motivated her to get out of bed every morning and teach. For that, I will be forever grateful."
In this moment, the students were not expecting him to express Gratitude to them & prompted them to consider how Mr. Fedrigon must feel. The students did not respond; they listened to understand as they reflected & attempted to share the experience w/ him. This was unselfish; this was EMPATHY. I am Proud to say that a 3rd grade student initiated eye contact and a hand-shake w/ Mr. Fedrigon. She just said, "Thank you for teaching me about Empathy."