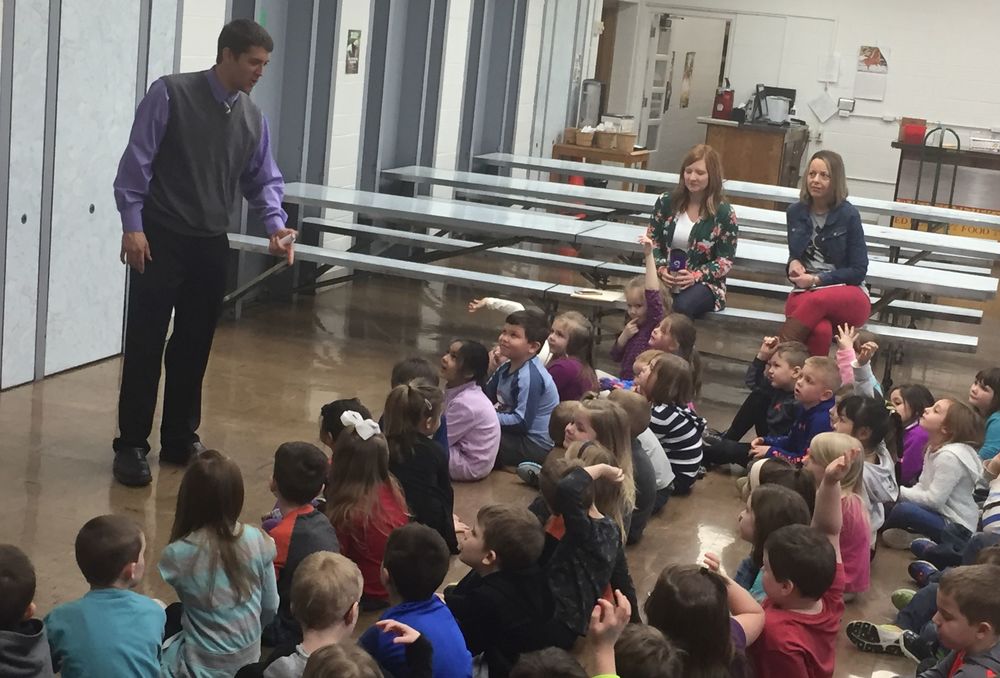 GRIT: "Effort Endurance"
Ryan Scott
Wednesday, March 07, 2018
GRIT: "Effort Endurance"
By Ryan Scott, Main Street Elementary School & Kindergarten Center Principal
Main Street & Kindergarten Center is equally dedicated to the development of our students Socially & Emotionally to Academically. The goal is that no student is more prepared for College or Career or LIFE than our students. Much of this development is not inherited; it is learned. We must model & strategically reinforce w/ positive, timely (on demand) & specific feedback. There are personal & collective benefits to this development & the ideal system involves students that see Value & Progress.
On Tuesday, March 6th, Dr. Kyle Thompson, Regional Office of Education (ROE) # 11 Assistant Superintendent, addressed (k – 3rd) students regarding GRIT. Many times, March can be a "grind." I have had many conversation with Dr. Thompson focused on best practices, factors, and role of education. It became very evident he was fascinated by the role culture and poverty played in educational and social success. He also seemed to genuinely believe in this recent "buzz term," GRIT & the idea that it can be "grown." I immediately thought of him as we decided who should pass on some wisdom with passion. I am thankful that Dr. Thompson accepted the request.
Dr. Kyle Thompson began with a brief introduction and a focus question, "What is the hardest thing you have ever done?" Responses varied from learning to read or ride a bike to "surviving" some situation. What was the "hard" part: fear & struggle.
The next phase in the presentation was linking to "prior knowledge connections." Kyle showed a slide with a picture of Walt Disney and some high profile Disney characters. Kyle shared the story of failure Walt experience with rejection and criticism that he lacked creativity. The students reacted with surprise. What if he had given up…What if?
This lead into a conversation and analysis of well-known recent Disney movies such as "Moana." How many times was the main Theme: GRIT? How often was there struggle or failure? How many opportunities were there to give up? Why do we root for these characters from our home living room couches and say, "keep going?"
Kyle ended with a discussion of a classic book, "The Little Engine that Could." This was a story of GRIT & a mindset of "I think I can." People meet expectations, especially their own.
I resounded Kyle's message with the idea that I have grown GRIT & I have lost some in my life. You need a few opportunities in your life where you experience struggle or maybe even failure and you don't give up & experience some eventual growth or success. This adds to your confidence the next time that things will work out & "If I try hard enough for long enough, I will be successful." Sometimes, we have "struggle by design" in the classrooms to challenge students. They need the right mindset & really believe what we believe about them: "There is nothing someone else can learn that you can't." "The problem isn't that you can't learn something, it is that sometimes we give up too early." We want students that face a challenge & "puff out their chest." We want them to "lean into" & embrace struggle.
We have all heard that we do not want the next generation to be "soft;" I say, "We want them to be GRITTY."
"Be Nice; Work Hard"