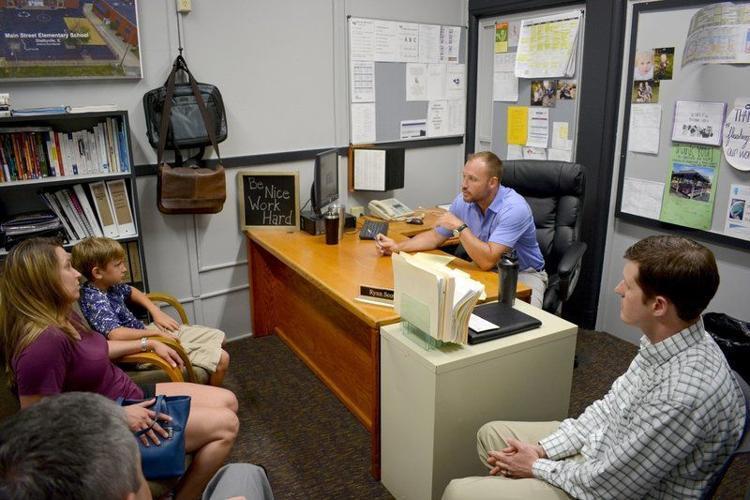 Main Street Third Grader Spurs Recycling Program
Stan Polanski
Wednesday, June 20, 2018
Main Street third grader spurs recycling program
Stan Polanski Daily Union
Main Street third grader Ezra McConnell, along with his mother, met with representatives from Graphic Packaging International and Principal Ryan Scott recently to discuss bringing a recycling program to the school by next school year.
"I want to involve Ezra heavily since it was his idea," Scott said. "Our students have a voice and this is their school. If I want them to believe this and embrace it, I need to show them it is true."
Some specifics still need to be worked out, but the meeting last Tuesday established that bins for paper would be placed in classrooms and periodically collected and delivered to Graphic Packaging in Shelbyville for recycling. Scott said the local company ordered 30 bins for the school to use.
Scott said students, led by McConnell, would take charge of the program.
"You're comfortable being the face of this?" Scott asked McConnell.
"Yes, definitely," he said.
McConnell said he pitched the idea after noticing resources weren't being used efficiently.
"I feel like a lot of people are wasting trees, plastic, and aluminum cans," he said. "If you recycle, it's more work, but it's better for us."
Eric Wiley, Graphic Packaging's plant manager, said that the company wanted to help with McConnell's mission because its employees have children at the school.
"We're doing it for our own kids," he said. "We try to get as involved in the community as we can. We live here."
The Shelbyville City Council recently said it wanted to have a discussion on recycling as well. Not having an alternative to trash is a "glaring hole" in the city, Wiley said. If it weren't for Graphic Packaging's involvement, Scott said the school would have to look to Decatur for recycling.
Stan Polanski can be reached at stan.polanski@shelbyvilledailyunion.com or 217-774-2161 ext. 1.