KINDNESS – September 2018
Main Street School & Kindergarten Center hyper-FOCUS on KINDNESS during September. Our school & our community need students & members that care about others & show it.
Moulton Middle School Principal, Russ Tomblin, addressed Main Street students Tuesday, September 4th "kicking-off" KINDNESS value.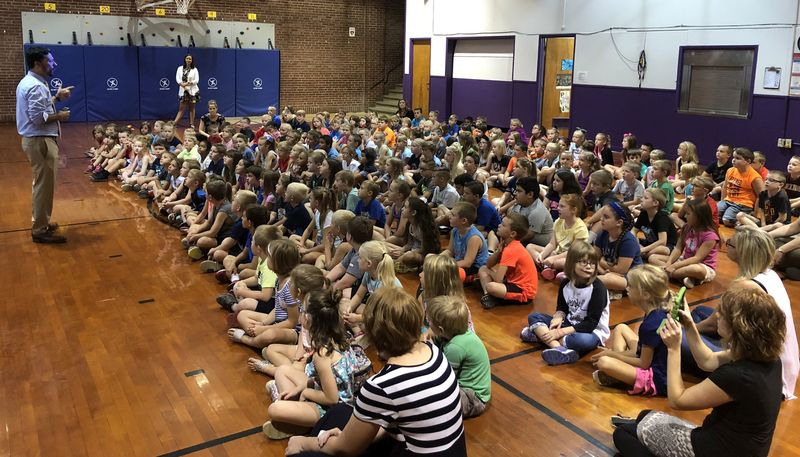 Mr. Tomblin began w/ a short video w/out words. The theme was evident: Kindness "spreads." Students analyzed the "ripple effect" & realization that Kindness does not cost money; it just cost time. A kind person notices opportunities to be kind & takes action frequently enough to become habit & associated w/ them as the "norm" of their character.
Mr. Tomblin then shared his "story" w/ the students. There were identifiable "markers" in his life that impacted his development. These were acts of Kindness. Some of our students could relate to his story & it was so good to expose them to his background. He did not have some material things his peers had such as brand new name-brand apparel. His family dynamics were not traditional w/ the two-parent home. He lost personal belongings such as comic books and even basic essentials such as his bed in a flood. This was unfortunate & stressful. He described the experience as being "blessed" because teachers, family, friends & the community showed genuine Kindness. He will never forget these acts of others. This deep appreciation developed into a daily self-reflection w/ himself & his daughter: "Whose day did you make better because you were a part of it?"
Mr. Tomblin discussed "Random Acts of KINDNESS." Taking initiative just to show others you care. This lead into the "Kindness Challenge." Identify one person to positively target. Do not say anything negative about that person to them or about them. Say something positive about them to them or to someone else each day. Do one act of Kindness each day.
Students watched a short video regarding some neuro & physiological science. Hormones are naturally released such as endorphins & serotonin which decrease pain levels & help you relax & oxytocin which lowers blood pressure.
Students "practiced" Kindness w/ a compliment & a smile to their peers on their right & then on their left.
The focus w/ KINDNESS obviously has an anti-bullying message that is reinforced all year.
September 2018 KINDNESS is sponsored by Yen Ching Chinese Restaurant.
Our "mantra" @ Main Street School & Kindergarten Center is "BE NICE; WORK HARD."